Recycling Melting Blowing
Recycling, Melting, Blowing
24-29 October 2021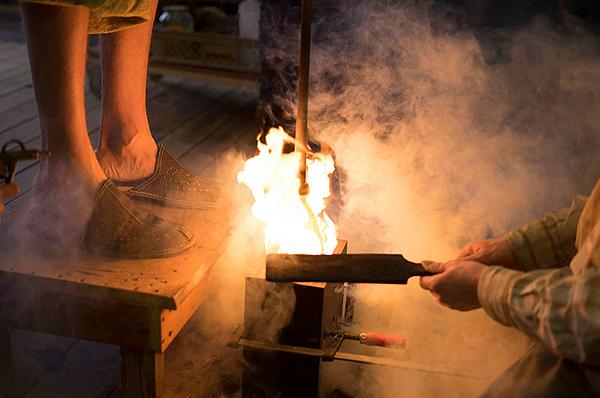 There is a certain alchemical magic in the transformation of sand into glass through fire. At around 1320 degrees the syrupy blob of glass is liquid enough to blow into, resulting in a bubble that embodies the human breath.
From solid to liquid and back – as long as the glass remains free from contamination this process can be repeated endlessly, making it a prime candidate for recycling.
Tracing glass from the bottle to the recycling plant and back into use, our journey will take us through the industrial landscape of Switzerland, all the way back to our garden at the Hönggerberg where we will directly recycle glass into new forms.
We will engage in the process of glassblowing in a way probably most comparable Dale Chihuly. The master glassblower had lost one eye in a car accident and thereafter was dependent on assistant glassblowers to execute his distinctive designs. Chihuly choreographs and deploys his glassblowers and crews like actors on a stage. "I'm also fond of drawing parallels between the way I work and the way an architect relates to his group", he says.
In artisanal glassblowing, the size and shape of the glass product are hugely dependent on the artisan's body: In the case of "broad sheet" glass, the size of the bubble is limited by the artisan's lung capacity, their height, and their capability to swing the blowpipe. In order to create larger sheets, the height of the artisan must be increased or the lungs of the artisan replaced – e.g. by compressed air.
In 1886 the Swiss engineer Gustave Falconnier patented a hexagonal brick made of glass blown into a mold which made glass insulating as well as structural, whilst still allowing light in. Glass became an industrial commodity without which modernism's mantra of "light and air" would never have emerged. From stained glass church windows to curtain walls, it could be argued that no other material bridges such a large ideological gap in architecture than glass.
24-29 October 2021
Price Range B (max. 500Fr.)
10 students max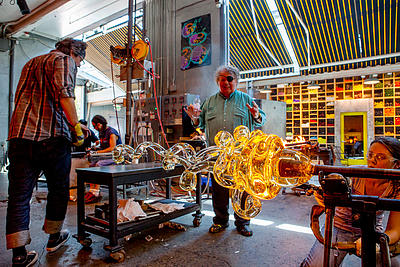 Dale Chihuly at work
Dale Chihuly at work
Dale Chihuly at work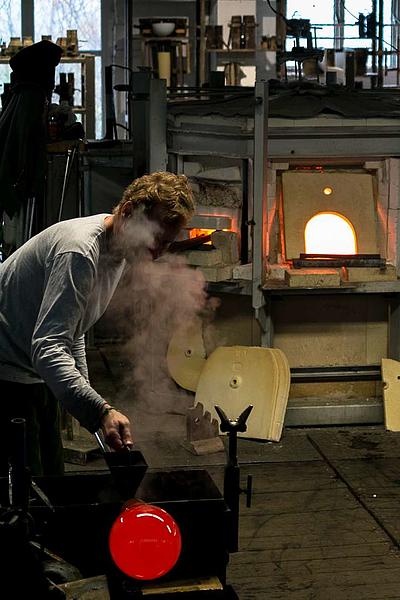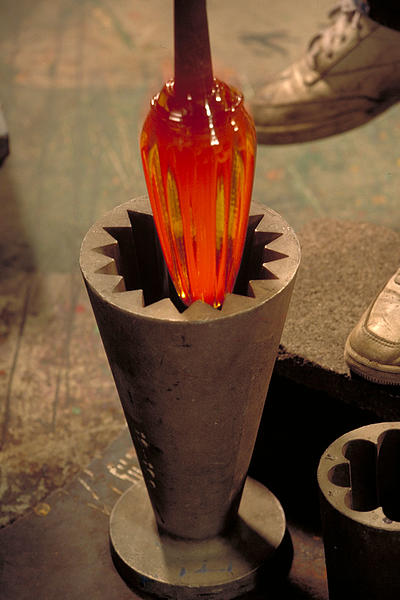 Niesenglas
Niesenglas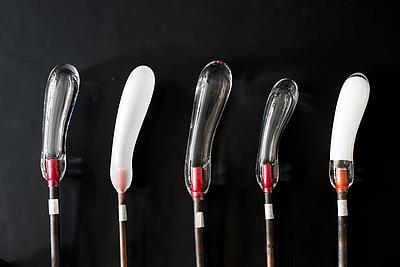 This series of seminar weeks explores our physical and emotional connection with the world around us. Focusing on different materials and actions we will investigate the process by which things are made at both the scale of the factory and the craftsman. Literature, film, and technology will guide and frame the way we look at these processes of making and we will use our own hands and bodies to explore each theme. Weaving, Firing, Casting, Carving, Moving, Forging, Preserving.
We will work in small groups of 12 students and each seminar week will be accompanied by a specific reading which we will discuss over the course of the week. By keeping travelling to a minimum, each seminar week will be affordably priced below 500CHF.