Altering Architecture
Altering Architecture
Pula, Croatia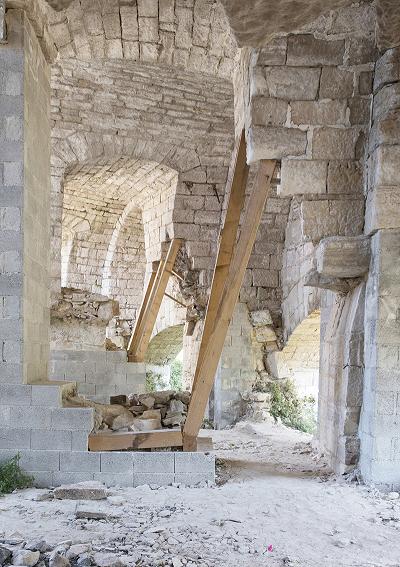 Fort Grosso, Pula, Croatia
Building Antiquity, Through the Arch by Qianer Zhu and Yaxin Hou
Tvrđava Bourguignon Fort by Sacha Rezzonico and Veronica Berardi
Arles Amphitheatre, from 5th Century on
Diocletian's Palace, Split from 7th Century on
Split, aerial photograph
Katerina, Pula, Croatia
Monumenti, Pula, Croatia
Castelvecchio, Verona, Carlo Scarpa, 1973
Upper Lawn Pavilion, Wiltshire, A+P Smithons, 1962
Upper Lawn Pavilion, Wiltshire, A+P Smithons, 1962
Basilica Palladiana, Vicenza, A Palladio, 1614
Each era and building have their own way of dealing with material, tectonics and expression. "Knowing one's place" becomes the core task when altering architecture. This semester we will continue our work on Pula and the Brijuni Islands and you will be asked to alter an existing structure to house a facility for tourism. "Taking Care" is as much an attitude to a building as to a city or an industry and through your intervention you will be asked to rethink tourism on the Mediterranean with this same careful attitude.
The theories and examples of altering existing buildings form a rich and complex tapestry, which we will try to unravel during the first weeks of the semester. You will read and present key texts and make an atlas of refurbishments spanning from antiquity to the present day. We will investigate a range of methodologies and material uses in these case studies, which, along with last semester's Atlas will become the key resource for your own work.
This semester we will focus our gaze more intensely on individual buildings and try to use our shared knowledge of construction to invent proposals which work on or within these existing structures. We will continue our work in the garden with the same focus on "Taking Care". We will plant, repair, cut, remove and extend with very little means to transform the garden into a lively landscape for the years to come.
Alte Pinakothek, Munich, Hans Döllgast, 1957
On Altering Architecture, Fred Scott, 1967
Interior of an Industrial building on Uljanik by Arno Bruderer and Christa Held
Uljanik Axo by Arno Bruderer and Christa Held
Exterior of an Industrial building on Uljanik by Arno Bruderer and Christa Held
Bofills Factory, Barcelona, Ricardo Bofill, 1973
Temporary Contemporary, Los Angeles, Frank Gehry, 1983
Teatro Oficina, Sao Paulo, Lina Bo Bardi, 1984